Full Bathroom Installations
This gallery page shows examples of work carried out by DTA. All pictures can be clicked on to open a larger copy of the image.
Installation 1
This was a larger domestic project. The client asked for three additional bathrooms, all with hidden toilet cisterns and push-button flush. Two toilets were wall-hung. Each bathroom had a single or double shower fed from a new cylinder with increased capacity and a pump to increase the water pressure.
The ensuite for the master bedroom included a wireless shower remote to enable the shower to be controlled from anywhere in the house (so excellent for grabbing a few extra seconds in bed whilst the shower reaches the perfect temperature)!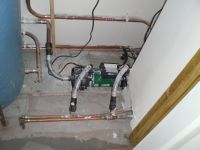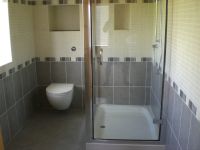 Installation 2
The client had a lack of space in their bathroom and asked for a design that would maximize the available area. By using a corner bath with a shower over, we managed to make space for a full sized basin in addition to the toilet and cistern (which had not been possible before). The corner bath also made for a more generous showering area than a standard bath would have provided.
Installation 3
This was a conversion of a single shower enclosure to a double shower and added a pump to maximise the water pressure. We added matching taps and a heated towel-rail to modernise the room.
Installation 4
This was a commercial job to convert a room in a residential care home into a hairdressing salon.